Mediation: The Way to Get a Quick and Cheap Divorce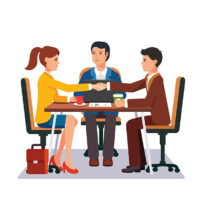 So you and your spouse have decided to proceed with the dreaded "D" word – Divorce. You've heard horror stories about it taking years and costing tons of money in legal feels and smartly, you want to avoid all of that. Well guess what? You totally can!
In October of 2015, the legislature enacted a new no-fault based ground for divorce called "mutual consent". At the outset, this ground required that parties not have any minor children, and have a written agreement that resolved all issues related to alimony and the division of marital property. In 2018, the mutual consent ground was expanded to include parties with minor children, requiring a written agreement that resolved all issues related to child custody, child support, alimony, and the division of marital property. Basically, tell the court that you don't need them to decide any issues for you and your spouse, and they will give you a quick divorce. There is absolutely no separation period required. Prior to 2015, the only way parties could get a no-fault divorce was by physically separating for a minimum of twelve (12) months. This is part of the reason that it traditionally took so long to get divorced.
But how do you get this "written agreement"? One of the best ways to try to reach an agreement with your spouse is to go to mediation with an experienced mediator. A mediator is a neutral third-party who acts as an intermediary between you and your spouse and whose role is to guide the conversation in a way that helps you reach compromises on whatever issues you need to resolve in order to begin living separate lives. Mediators aren't always lawyers, but sometimes it can be helpful to mediate a divorce with a lawyer so they have some background on how each issue works. Although it can take several sessions, mediation is a process that gives you full control over the outcome of your family and your divorce, and is also one of the least expensive ways to get divorced. It provides a calm, non-adversarial setting to discuss important issues. We find that parties are happier as they move on with their lives, and often with co-parenting, when they have reached an agreement through mediation or settlement as opposed to an adversarial manner.
If you are able to reach an agreement in mediation, the mediator can often draft a written agreement for you, which formally outlines all of the terms agreed upon. However, it is important to remember that the mediator does not represent you or your spouse, and they cannot advise you on whether the agreement you reached is in your best interest. Therefore, it is extremely important that you have a lawyer review the agreement on your behalf prior to signing. At Weinberg & Schwartz, we not only offer mediation services, but we also offer to prepare you for the mediation process with another mediator, or review agreements reached in mediation. If you are ready to proceed, call our office for a consultation today!