What Howard Magazine's 2021 "Best of" Family Lawyer Means to Us!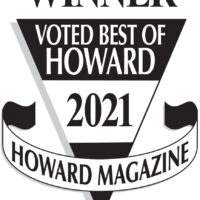 Weinberg & Schwartz, L.L.C. is thrilled to announce that we have been named "Best Family Lawyer" by the readers of Howard Magazine for 2021. This is the 5th time our firm has been named "Best Family Lawyer" in this poll.
While our firm and attorneys have been recognized and awarded throughout the State of Maryland, being voted as the "Best Family Lawyer" in Howard County, Maryland is especially meaningful. To win a local award like this – voted on by our own community, a business like ours must have tremendous support from both our clients, as well as other professional organizations. During the voting period, we were blown away by the amount of support – in many forms like voting, sharing, reposting, amplifying, retweeting – that we received from not only our current and former clients, but also the professionals that we have come to lean on in our mission to achieve the best, and most family focused, outcomes in our clients. Our clients left us messages of support and let us know that they were encouraging their friends, family members and co-workers to vote for us as well.
In a field of law that involves divorce, contested child custody matters, and critical financial issues, it can be hard for clients to look back at the process and remember anything positive. However, our firm has a 20+ year history of doing everything we can to ensure that our clients, their families, and their children come through their legal process in the best position possible.
So having said that, it has been a wonderful few days since the results were announced as so many people have reached out to us in some form or another to congratulate us -including other law firms. Here are just a few samples:
"Hi Jolie, Marni, Amos, Ethan and staff… I could not agree more … and so happy because you all deserve this award.  CONGRATULATIONS!!!"
"That's AWESOME!!! Congratulations (and very well deserved) – you guys are the BEST!!!"
"Congrats Marni, you truly deserve this award. I appreciate all you have done and will do in the future on my behalf. I forwarded this to both my therapists, a close friend and my daughter who knows a young mom here in HoCo who's decided to pursue divorce."
These kind messages mean so much to us. All of us here are so proud and thankful of the support we have received. We promise to keep working as hard as we can for our clients as they navigate the difficult paths that family law cases sometimes lead them on.
THANK YOU TO EVERYONE WHO VOTED AND SUPPORTED US!!