Saint Patrick's Day History and Irish Bread for Thought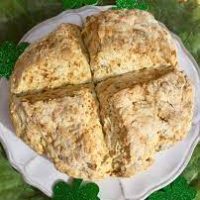 Saint Patrick's Day History and Irish Bread for Thought
St. Patty's Day might be one of the most celebrated spring holiday outside of Easter.  This is the best time to break out all the green clothing you have in your closet including hats, gloves, shoes, jewelry, socks and the list goes on!  If you're Irish, you will more than likely understand the history of this popular holiday not just for what the holiday means, but also the celebration. St. Patrick was a saint who lived during the 5th century and is the patron saint of Ireland.  Patrick was born in Roman Britain, and he was kidnapped and brought to Ireland as a slave at age 16. He later escaped, but returned to Ireland and was thought to have brought Christianity to Ireland.  Following Patrick's death (March 17, 461), the mythology became part of Ireland's culture. The magical clover legend is explained in that Patrick explained the Holy Trinity (Father, Son and Holy Spirit) using the 3 leaves of native Irish clover, the shamrock. The St. Patrick celebrations started in the 9th and 10th century. The first St. Patrick's parade was actually held in 1601 in St. Augustine, Florida, not Ireland.  The celebration of St. Patrick's Day has grown incredibly over the years since the first parade including parades, green beer, 5K runs and lots of costumes for those who are Irish or just like to celebrate!
Irish Bread Recipe (Allrecipes)
Prep Time: 15 minutes
Cook Time: 1 hour, Servings:16
Ingredients:
1 cup raisins
1 cup dried currants
4 cup flour (all purpose)
1 cup white sugar
2 teaspoons salt
1 teaspoon baking soda
1 ¾ cup buttermilk
Directions
Step 1
Preheat oven to 350 degrees F, grease a 9" cast iron skillet
Step 2
Pour hot water over raisins and currants in a bowl and let is soak. Whisk flour, salt, sugar and baking soda in a separate bowl until well combined; whisk in buttermilk.
Step 3
Drain raisins and currants and pat dry with paper towels and fold into dough. Turn dough out onto a floured work surface and knead gently until it holds its shape; if dough is too sticky, knead gently until it holds its shape. If dough is too sticky, knead in more flour.  Form into a round and place into a prepared cast iron skillet.  Use a sharp knife to cut a cross into the top of the loaf.
Step 4
Bake in a preheated oven until golden brown and a slender knife inserted into the loaf comes out clean.