Five Fun and Safe Activities For the Whole Family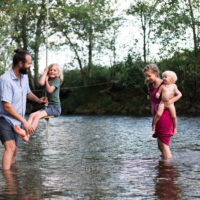 Fall is just around the corner and the weather is finally starting to become more bearable, dare we even say, enjoyable. If the summer heat kept you mostly indoors and at home the last couple of months, take advantage of the cooler fall months and enjoy these outdoor low-risk activities safely with your family:
Maryland Zoo – The Maryland Zoo, located in Baltimore, is open daily from 10 a.m. to 4:00 p.m. until December. You do have to reserve your spot so make sure you get tickets in advance. Although the rides are currently closed, there are tons of attractions and experiences still open, such as giraffe feeding and penguin encounters. If you're interested in any of these experiences, make sure to check the website for regarding available hours, tickets and reservations, and other important information.
Clark's Elioak Farm – A Howard County favorite! With a petting farm, a sunflower field, an enchanted forest, tractor rides and more, there's something at Clark's for everyone in the family. They have a fresh produce and meats stand as well. Also, beginning September 19th through November 8th, Clark's pumpkin patch will be open. Please make sure to check the website for reservations and ticketing information as they request you purchase tickets in advance prior to coming to the farm.
Patapsco Valley State Park – If animals aren't your thing, pack a picnic and spend a beautiful Saturday afternoon by the Patapsco River. Based on which part of the park you go, there are so many things you can do: swim in the river, go hiking, picnic, and there is even a tire playground! Check the website to find out which part of the park is most geared to what you want to do with your family. While you are not required to reserve times or purchase tickets in advance, if you are going on a weekend, make sure you go really early. As the park starts filling up, they will turn cars away.
Jackson Pond – Located in Columbia's Village of Long Reach, this is a beautiful little spot with a playground, bike trails, hiking, and circular walks around the pond. This is a great spot to take your family fishing as well!
Robinson Nature Center – Although the nature center is indoors, where you can see local wildlife, there are outdoor walking trails as well where you can see beautiful trees donated by the Howard County Forestry Board and explore the woods and wetlands.