BUT YOUR HONOR, I HAVE A PRENUP! Kelly Clarkson's soon-to-be Ex asks for $436,000/month in support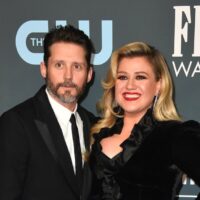 Earlier this year, Kelly Clarkson announced her separation from her husband of seven years, Brandon Blackstock. If you don't know who Clarkson is, I applaud you for not being consumed by television shows, music, and gossip media – most of us are not that disciplined. Clarkson, the season one winner of American Idol has gone on to have a very successful career as both a musician and a television personality. Blackstock is also familiar with showbiz as he is a talent manager for various superstars, including Blake Shelton, and is successful in his own right. In fact, Blackstock's father was Clarkson's manager when the two first met, but I digress.
Prior to getting hitched, Clarkson and Blackstock signed a Prenuptial Agreement. Such agreements are extremely common among celebrities and can be used to, inter alia, protect pre-marital assets, define what will constitute marital property, determine future division of assets, and settle alimony/attorney's fees claims. A prenuptial agreement is essentially a binding contract between two adults that provides for what happens should their marriage end. Notice that child custody and support are not in the list of things that can be agreed upon in a prenuptial agreement. That's because, at least in Maryland, you cannot contract for child custody/support in advance. Given that circumstances can always change, the court must be able to do what is in the best interest of the child/children. Clarkson and Blackstock have two young children, and at the end of November Clarkson was awarded primary custody of the children with visitation to Blackstock on the 1st, 3rd, and 5th weekends of the month.
As is common in highly contentious, litigated divorce cases, one party was not happy with the court's order – here, it was Blackstock. On Monday, just days after Clarkson's custody victory, Blackstock filed for support to the tune of $436,000 per month and asked for $2 million dollars in attorney's fees. Taking out the portion that he claims is for child support, Blackstone is asking for $301,000 per month in spousal support (alimony) from Clarkson, or just over $3.6 million per year. According to celebritynetworth.com (which I am in no way endorsing), Clarkson's net worth is about $45 million dollars while Blackstock's income is unknown but his reported worth is about $10 million dollars, so there's a lot of money going around.
Although the terms of the Prenuptial Agreement are unknown, Clarkson has been very clear that she is trying to enforce their prenuptial agreement. It is likely she wants to do so because the prenuptial agreement includes a waiver of spousal support and alimony. By requesting spousal support (alimony) and attorney's fees, Blackstone is likely challenging the parties' prenuptial agreement. Can he do this? Can he challenge the Prenuptial Agreement? The short answer: he can try. In Maryland, if your prenuptial agreement is done by competent counsel, you should be okay. However, the court can decide to not enforce a prenuptial agreement for several reasons including: one spouse was coerced into signing (or under duress), one spouse did not have the capacity to sign, or the prenuptial agreement is so unconscionable that it cannot be upheld. This list is not exclusive, but it gives you an example. Without knowing the details of the Clarkson/Blackstone prenuptial agreement itself, or the circumstances surrounding its drafting/signing, there is no way to comment on the likelihood that a court would void the prenuptial agreement. It will be very interesting to see what comes of the new development in this case – check back here for updates as more details are released!
** The topics in this blog post are for informational purposes only and should not be construed as legal advice. All situations are different and prenuptial agreements are particularly finicky. If you are thinking of getting married and have assets you want to protect, have been asked to sign a prenuptial agreement, are thinking of getting divorced, are getting divorced, have children with someone and may need a custody and/or support determination, you should seek legal counsel to make sure your rights are protected. We are currently accepting clients in the central Maryland area and are happy to consult with you about your unique legal needs!**