Safeguarding Your Future: The Importance of Wills, Powers of Attorney, and Healthcare Directives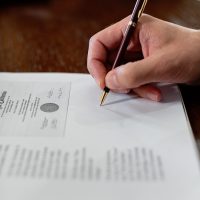 Life is unpredictable, and it's crucial to plan for the unexpected. One way to protect your interests and ensure your wishes are honored is by establishing legal documents such as wills, powers of attorney, and healthcare directives. While these topics may seem daunting, understanding their significance is essential for securing your future and offering peace of mind to your loved ones.
A will is a legal document that allows you to dictate how your assets and possessions should be distributed after your passing. Having a will is crucial, regardless of the size of your estate. Without a will, your assets may be subject to intestacy laws, meaning the court will determine how your property is divided, which may not align with your intentions.
By drafting a will, you retain control over your legacy. You can specify beneficiaries, appoint guardians for minor children, and even outline your preferences for funeral arrangements. A will ensures that your loved ones are taken care of and minimizes the potential for disputes among family members during an already emotionally challenging time.
A power of attorney (POA) is a legal document that grants someone else the authority to make decisions on your behalf if you become incapacitated or unable to act for yourself. There are two main types of POAs: financial and healthcare.
A financial POA authorizes a trusted individual, known as an agent, to manage your financial affairs, pay bills, make investment decisions, or sell property. This ensures that your assets are protected, bills are paid promptly, and your financial affairs are handled with care, even if you are unable to do so yourself.
Similarly, a healthcare POA (also oftentimes referred to as a "Living Will" or "Advance Healthcare Directive") grants an agent the authority to make medical decisions for you when you are unable to communicate or make decisions regarding your own health. It allows you to specify the types of medical treatments you would like to receive or refuse, as well as your preferences for end-of-life care. By creating a healthcare directive, you can ensure that your wishes regarding life-sustaining treatments, pain management, organ donation, and other medical interventions are known and respected. This document not only relieves your loved ones from the burden of making difficult decisions but also ensures that you receive the care aligned with your values and beliefs.
While contemplating end-of-life matters can be uncomfortable, it is crucial to consider the importance of wills, powers of attorney, and healthcare directives. These legal instruments empower you to protect your assets, make informed decisions about your finances and medical care, and provide clear guidance to your loved ones. By taking the time to establish these documents, you are taking an active role in securing your future and providing peace of mind for yourself and those you care about.