Amos M. Whitney, Partner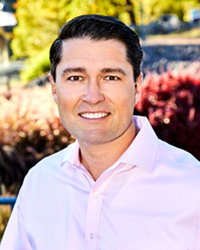 Amos Whitney received his Bachelor's Degree in Journalism from the University of Maryland, College Park and his Juris Doctor from the University of Maryland, School of Law in May 2009.
After graduating from law school, Amos served as a judicial law clerk to the Honorable Diane O. Leasure, former Administrative Judge for the Circuit Court for Howard County from August 2009 – September 2010. He was admitted to the Maryland bar in December 2009, Amos then joined Weinberg & Schwartz, L.L.C., as an associate in September 2010. In 2018, Amos was made a Partner.
Amos' practice covers all areas of Family Law: Divorce, Child Custody, Child Support, Protecting and Dividing Marital Assets, Alimony, Separation Agreements and Domestic Violence Hearings. Amos often works on high-conflict divorce cases and cases involving complex financial matters. Amos is familiar with many types of executive compensation, deferred compensation, business valuations and the complicated nature of business ownership income. However, there is no case that is too small for Amos, and he dedicates a portion of his practice to pro bono representation of litigants who cannot afford private counsel.
Amos is regularly appointed by the Courts to represent children in high-conflict custody and divorce cases. In this special role, Amos works closely with physicians, counselors, therapists and other mental health professionals to ensure that his approach to the legal issues are consistent with his clients' goals.
Amos also handles appeals of family law matters. In fact, he successfully briefed and argued a case before the Court of Special Appeals resulting in a reported opinion setting forth new Maryland law regarding Best Interest Attorneys.
http://www.mdcourts.gov/opinions/cosa/2014/1453s13.pdf.
Amos is a former President of the Honorable James MacGill American Inns of Court, and actively participates in the Family Law Section of the Howard County Bar Association.
Learn more about Mr. Whitney:
Professional Associations:
Maryland State Bar Association
Howard County Bar Association
Howard County Bar Association, Young Lawyers Section
James MacGill Inns Of Court, President (former)
Volunteer:
Monthly participant in the Family Law Assistance Program sponsored by the Circuit Court for Howard County.
Volunteered with Weinberg & Schwartz, L.L.C. at My Sister's Place in Baltimore, Maryland.
Annually volunteers with Weinberg & Schwartz, L.L.C. at Our Daily Bread Employment Center in Baltimore, Maryland.
Dedicates a portion of his practice to pro bono representation of individuals who cannot afford private counsel
Client's Choice 2015
Client's Choice 2016
Client's Choice 2017
Client's Choice 2018
Client's Choice 2019
Client's Choice 2020